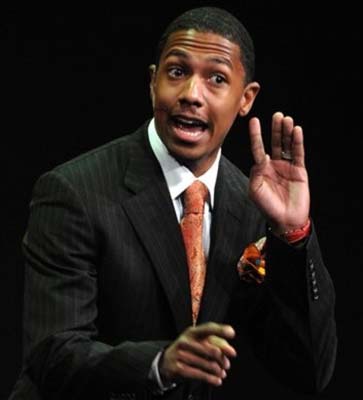 4 white people beefing is funny to me…..Nick, Em, Chelsea and Howard…how cute!!! Lmao…
Nick Cannon goes "wild n' out" on Handler and Stern.
Nick Cannon took to Twitter on Friday to respond to a joke comedienne Chelsea Handler tweeted earlier that day. The E! hostess wrote, "I just heard Nick Cannon is starting a comedy tour? Who's going to do the comedy?" Cannon, whose been doing stand-up since his teens, took offense and fired off an angry tweet that not only calls out Chelsea Handler but two much more powerful media figures. Via Twitter, "@ChelseaHandler @HowardStern @Eminem Why do all these angry ugly whitetrash folks want beef with me? What I do? I'm a harmless corny dude!"
Cannon and Eminem's beef is well known as Em has always maintained that he had a fling with Cannon's wife, pop superstar Mariah Carey, though many years before the two were married. Stern most likely got caught in the TeenNick Chairman's crosshairs because of comments he has made about Cannon and Carey on his hugely popular radio show.
Cannon also tweeted several other comments about Handler, from calling her an unfunny Joan Rivers to stating that Handler was given her E! talk show because she had a sexual relationship with the network's president. Cannon has stated that these are all "just jokes" but has received many angry tweets that even go as far to call him a racist because of his use of the term white trash. Handler responded with only one tweet which read, "@nickcannon pls drink this before you tweet me again," and contained a link to a picture of a can of grape soda. Many other twitter users then accused Handler of trafficking in racist stereotypes.
Stern and Eminem have, for now, wisely refrained from commenting on either Cannon or Handler's comments. (via HipHopDX)